H2O.ai Wildfire & Bushfire Challenge
Join our challenge to build wildfire & bushfire prediction models.
Sign In
Wildfires (a.k.a. bushfires) are a serious problem that threaten lives, communities, wildlife, and forests every year, with global climate change, it is getting worse. They are a global issue and are considered one of the most dangerous disasters we face. While humans cause many fires, other factors, including wind, lightning, drought, and landscape, impact where fires occur and how they spread.
Wildfires present unique and severe forecasting challenges. Compared to storms, such as hurricanes, wildfires are ambiguous and hard to predict, especially when you start looking at large, intense wildfires. Those fires combine complex weather, different landscapes, fuel sources such as housing materials or dry forests, and more.
The H2O.ai Fights Fire Challenge aims to provide first responders, local leaders, businesses, and the public with new AI applications that can be used to help save lives and property. We expect the participants and teams to build for one of these audiences, but we want to make sure you have the creative freedom to decide which one to design for, as that will lead to a greater breadth of new applications being built.
At the end of this challenge, teams will submit open source AI applications that help in some way with the following: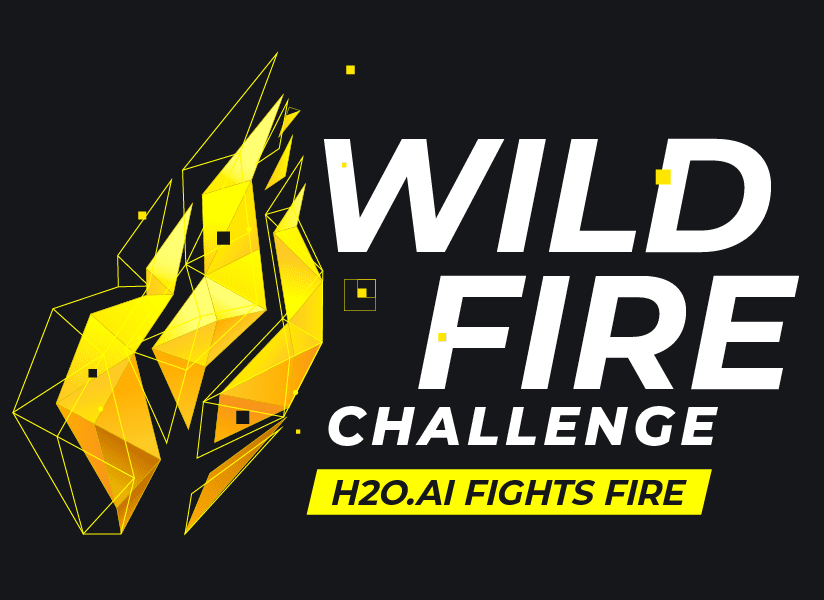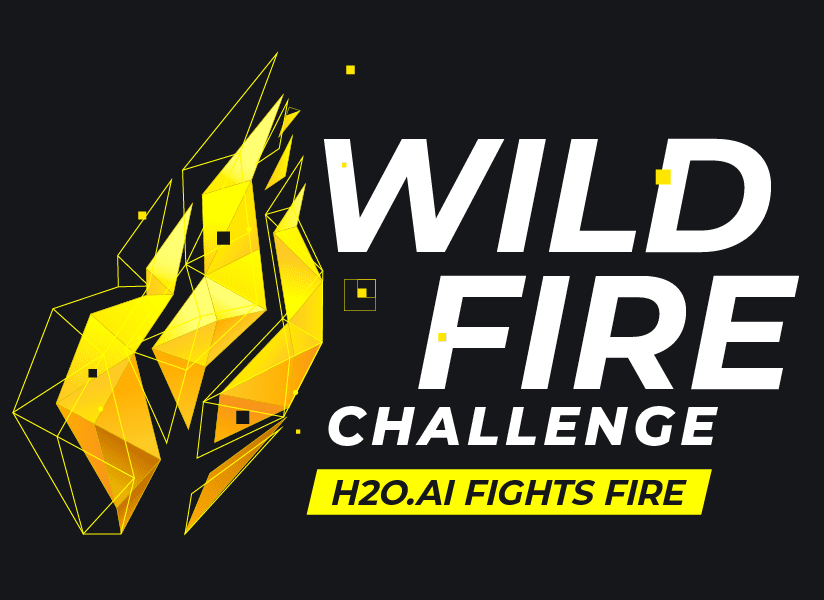 1. Predicting the behavior of wildfires

 
2. Predicting where wildfires will start

 
3. Reducing the loss of life and property from wildfires
We expect solutions to be directly applicable to numerous organizations that are working on these problems today, and we'll continue to share how the submissions are being used to prevent and contain wildfires.
Introducing H2O.ai Wildfire and Bushfire Challenge
Watch for a deep dive discussion to learn from H2O.ai Grandmasters.
Team Size and Registration
Individuals and teams of up-to 5 participants can compete. 
All participants must register individually, and the registration form is located on this page.
Already Joined the Challenge?
If you and your team have already joined the H2O.ai Wildfire Prediction Challenge, please sign in here
Key Dates and Submissions
The challenge has started and there will be two submissions for the challenge.

Challenge Start Date – November 4th
Submission Start Date – November 8th
First submission – December 15th, 11:59 PM UTC
Final submission – February 15th
Participants must submit their AI application in the first submission to participate in the final.
We expect to have our judging completed for the first submissions by the end of February.  Due to the extended judging timeline, we have changed our final submission timeline from Jan 15th to Feb 15th, 11:59 PM UTC.
The following elements are required for the AI application submission. All elements will be part of a single .zip file submission.
Written page describing the user of the application, the problem the application is solving, and the methodology used to make the AI model or models. This should be a simple readme.md, text, or .doc file.


Training Notebook


Core AI application
If teams make their AI apps using H2O Wave, they will be able to test their application within the competition platform.
Our judges have different expertise. Some are experts on AI and some will be end users of the application. The judges will collaborate on each submission to determine the overall score.
Each submission will be scored within 1-2 weeks.
After the submissions are scored, the top 10 will be posted on the Wildfire challenge webpage.
Clarity (10 pts)
Did the author present a clear thread of questions or themes motivating their AI app?
Did the author document why/what/how a set of methods was chosen and used for their analysis?
Is the training notebook documented in a way that is easily reproducible (e.g., code, additional data sources, citations)?
Accuracy (10 pts)
Did the author process the data (e.g., merging) and/or additional data sources accurately?
Is the methodology used in the analysis appropriate and reasonable?
Are the interpretations based on the analysis and visualization reasonable and convincing?
Creativity (15 pts)
Is the App something new that presents the data in a way that is addressing the challenge?
Does the notebook help the reader learn something new or challenge the reader to think in a new way?
Does the training notebook leverage novel methods and/or visualizations that help reveal insights from data and/or communicate findings?
Did you use or create alternate data sets?
Explainability (15 pts)
Is it simple to understand how the model works?
Can non-technical individuals understand the model and provide insights based on domain expertise?
Usability (50 pts)
Is the application easily usable for the audience it is meant to serve?
Would the customer actually use and improve upon the application after the challenge?
How useful would the application be in accomplishing its designed goal?
We've structured our Wildfire Challenge to be a global collaborative effort to do good for the world that we share.
We want teams to submit their ideas and applications freely, knowing that other teams will learn from what they've done to improve their AI application. We believe this is in the spirit of progress and innovative freedom.
Based on this open philosophy, we have multiple awards for competing teams, and we will award teams for participation and each application submission.
First submission $1.5k for each of the top 10 submissions
Final submission $3k for each of the top 5 submissions
Swag packages for all participants who submit
Step 1 – Create your Team and Register
Register for the Wildfire Challenge using the form below. Talk to your friends and coworkers to create teams. Within the competition platform, you'll be able to create and join teams.
Step 2 – Choose your Audience and Problem
Do some research and pick the audience you want to focus on:
First Responders (e.g. Firefighters or Firefighting Command Centers)


Local Leaders (e.g. Governors and Mayors)


Businesses (e.g. Local Retailers or Large Global Enterprises)


The General Public (e.g. you, friends, community)
Continue your research and select the problem you want to solve for your audience. Set requirements for your application.
Step 3 – Check Out the AI Starter Kit
The AI Starter Kit is located within the competition platform. The kit contains all of the elements of an application submission with the text document, training notebook, and full application code. You do not need to use the starter app, but it could be used to accelerate your solution.
Step 4 – Make your Solution
Work toward the first submission date, December 15th, and deliver your solution.